Active offers
The Hotel Am Bühl is the ideal starting point for am active holiday. Take advantage of the various winter sports options, explore the Ore Mountains on well-marked hiking trails or start an extensive bike tour.
Winter fun in Eibenstock

family friendly ski resort
Winter sport activities
Cross country skiing & Skiing
Enjoy a great winter day with cross-country skiing on the Kammloipe or a rapid descent on skis or snowboards. The numerous toboggan slopes also invite you.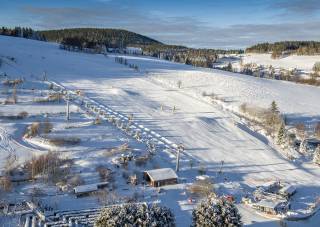 Cross country skiing in Eibenstock and surrounding areas
Information, access to the cross-country ski trails and much more about cross-country skiing can be found via the direct link to the Kammloipe
Ski lifts in Eibenstock and surrounding areas
Ski lift Johanngeorgenstadt (17 km) (ski slope, ski school, ski rental, ski kindergarten, access to the Kammloipe) sport-bachmann.de
Mühlleithen ski lift (21 km) (ski slope, ski / snowboard school) skihang-muehlleithen.de
Oberwiesenthal / Fichtelberg ski area (44 km) (ski slope, ski / snowboard school, ski rental, toboggan hill, cross-country ski trail) www.fichtelberg-ski.de
We wish you an eventful holiday!
Discover the Ore Mountains

on two wheels
Bike routes in Eibenstock and surrounding areas
In unmittelbarer Nähe unsers Hotels stehen verschiedene Radwege für Ihre Touren zum Einstieg, nicht nur in der Erzgebirgsregion, bereit.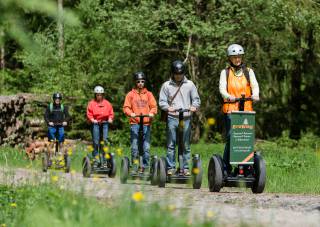 Segway & E-Bile
Come with us on a journey to experience the varied and beautiful nature around Eibenstock and the Auersberg region, on a guided tour or alone (only possible with an e-bike). You can find us in the "Hotel Am Bühl" in the shopping mall. We recommend that you make your appointment requests via our online booking system before you arrive.

More information at www.erzway.de


walking tours in the Ore Mountains

Discover the oldest walking area in Germany
Walking tours around Eibenstock
The Auersberg region is one of the most beautiful and oldest hiking areas in Germany. Thousands of kilometers of hiking trails have been developed, built, signposted and shown in the first hiking maps to bring the dark forests, romantic valleys and mountain heights as well as the friendly and hardworking residents closer. Lookout towers, rest areas and mountain inns were built.
On the website of our beautiful town in the Ore Mountains, Eibenstock, you will find numerous suggestions for your walking tour, with the option of starting directly from the hotel.

Overview:www.eibenstock.de