Meetings & Events
Successful meetings and celebration in style
Wether you are organising a seminar, work shop, exhibition, exclusive event, private wedding, Christening, Christmas party or birthday celebration - with us you will always find the right location and the perfect ambience.
We will help you to plan and carry out an unforgetable event. Enjoy your special celebration with us accompanied with our high level of quality and service
Your Events

Enjoy your event at Hotel Am Bühl
Company party, wedding, christening, Christmas party or milestone birthday
Our hotel offers you the ideal setting for celebrations of all kind, such as weddings, birthdays, anniversaries, reunions, company and Christmas parties. From comprehensive on-site advice, to the creation of an individual offer to the implementation of your planned event - we are happy to support you.
Give us a call under 037752 / 56-802 to schedule an appointment. You are also welcome to use our contact form to let us know your wishes.
Meetings in the Erzgebirge

Great possibilities for trainings, seminars, workshops or exhibitions
Meetings and converences
Whether you are organizing a seminar, workshop or exhibition - with us you will always find the right room and the perfect setting.
Each of our rooms is flooded with sunlight and we can accommodate up to 150 people. All of our meeting rooms feature the latest technology and offer WIFI to our guests. We gladly assist you in putting together an individual conference offer that matches your individual needs.
The "Blaue Wunder" in Eibenstock offers every comfort you and your guests might need to make your event as productive as possible as well as relaxing in the same time. We provide a large variety of conference equipment such as flip charts , pin boards, workshop materials and screens in all our meeting rooms as part of your personal meeting package we put together for you in advance.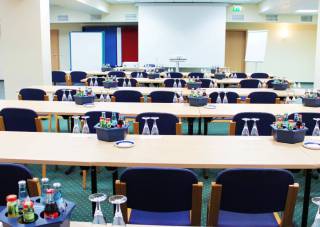 Saal 1
Our Saal 1 is with nearly 200 m² one of our largest meeting rooms and offers enough space for up to 100 participants. With its seperate entrance and spacious foyer.
Seatings:
U-Form: 30 Plätze | Block: 45 Plätze | Kino: 100 Plätze | Parlamentarisch: 60 Plätze
Equipment:
Tageslicht | Verdunkelung | Handyeignung | Flipchart | Fenster zum Öffnen | WLAN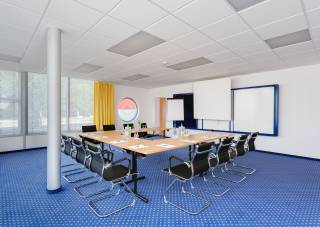 TR 1
Our meeting room TR1 is located below the Panorama restaurant " Glashaus" and can be accessed through an seperate entrance. This 57m² bright function room offers due to its unique location the perfect starting point for a successful event.
Seatings:
U-Shape: 12 Seats | Block: 16 Seats | Parliamentary: 12 Seats | Banquet: 20 Seats
Equipment:
Daylight | Flipchart | Window to open | W-LAN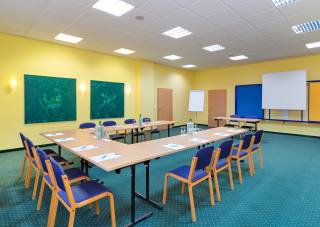 TR 2
Our meeting room TR2 offers enough space for up to 22 participants and is directly connected with our third meeting room TR3. All our dining outlets can be reached within a short period of time due to its unique location in the heart of the hotel.
Seatings:
U-Shape: 20 Seats | Block: 18 Seats | Parliamentary: 22 Seats | Banquet: 22 Seats
Equipment:
Daylight | Flipchart | Window to open | W-LAN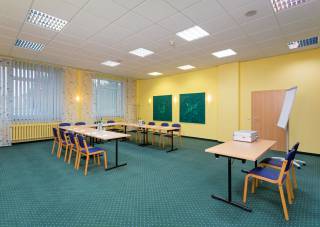 TR 3
Our third meeting room with a size of 70,00 m² offers enough room for up to 20 participants. It can be connected to the meeting room TR2 and therefore offers you and your team enough room to put creative thoughts into practice.
Seatings:
U-Shape: 16 Seats | Block: 14 Seats | Parliamentary: 20 Seats | Banquet: 20 Seats
Equipment:
Daylight | Flipchart | Blackout | Suitable for mobile phones | Lectern | Window to open | W-LAN