Our restaurants
Our different dining facilities offer a something different for everybody.
Wether you would like something down to earth, modern or traditional we always have the right meal to choose from.
If you are planning a private event we would like to support you in organising your special day.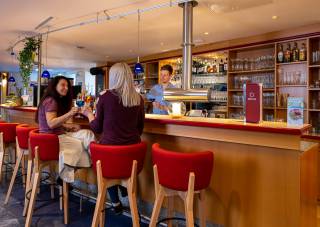 Bistro-Bar
Bistro-Bar
From espresso to cocktail to sweet delights and savory snacks - Join us in our Bistro bar with adjoining terrace daily from 11:00 am to bedtime.
Every Saturday starting from 09:00 pm - Dance at the Bistro Bar!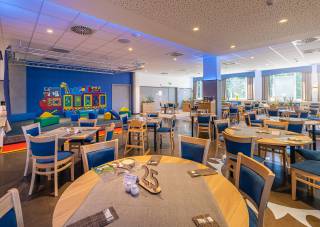 Banquet room
Our large dining room is open daily for breakfast and dinner from the buffet. As part of our family friendly concept we ensure our guests get the same table throughout the entire stay.
Especially families with younger children love the play area in the middle of the room as it offers great entertainments for the little ones and relaxation for the parents.
Restaurant Öffnungszeiten
Monday - Sunday 07:00 am - 10:00 am
Monday - Sunday 05:30 pm - 08:00 pm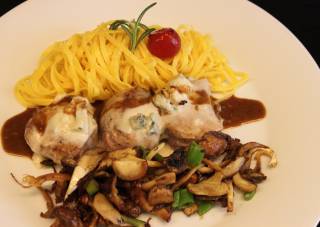 Marktrestaurant and Kräuterstübchen
Whether you would like to join us for breakfast, lunch, afternoon tea or dinner - as part of your half board or full board plus offer we always have just what you need and even reserve your favourite table to make your experience with us extra special. Families with small children have assigned tables in our banquet room for breakfast and dinner because of the availability of a play area for kids.
Our Kräuterstübchen is also suitable for small family gaterings or company celebrations.
Restaurant Opening hours
Monday - Sunday 07:00 am - 10:00 am
Monday - Sunday 11:30 am - 02:00 pm
Monday - Sunday 05:30 pm - 08:00 pm
Half board und full board PLUS
You can extend you booked services with the following additional packages:
Extension to full board PLUS
The full board PLUS can be added to an already booked or included half board meal plan. It can only be booked for the entire stay and for all guests of a room. The required minimum lenght of stay is 3 nights. The full board PLUS extends an existing half board meal plan by the following:
Lunch from our buffet or a special menu
snack in the afternoon with with coffee / tea / cocoa and cakes from the buffet
selected soft drinks, beer and table wine for lunch and dinner (during meal times)
first included service on the day of arrival: afternoon snack
Last service on the day of departure: breakfast buffet
Extension to half board
With the extension to half board, you will receive a daily changing, extensive evening in additionally to the booked breakfast buffet . Half board is already included in our offers which we have put together especially for you.